I
thought I'd better post, since tomorrow we will be upgrading our internet connection from dsl to FIOS. For some reason, this upgrade is making me nervous since yesterday Verizon came and dug a trench in our front yard. Selena and I had so much fun watching from the upstairs window! Anyway, in the event that something goes wrong, I am posting today. I don't have too much to write about, as this week has been a whirlwind already. I feel as if I am running behind my whirlwind with arms stretched out in front of me, yelling, "Come back, wait up!" Okay, now I have caused myself to laugh by the visual I just created.

We did have a wonderful time in the sun last weekend. It was so fulfilling to see Selena take in God's beautiful creation.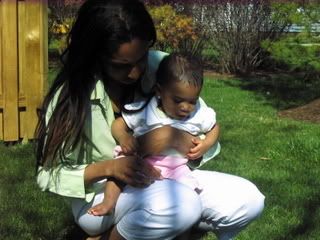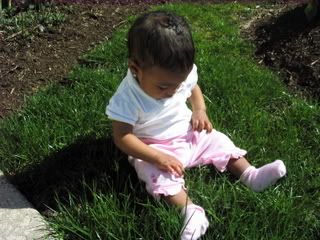 This morning, Selena woke up with a very swollen top gum. Her upper tooth is starting to poke through, but it just looks so painful. Over the monitor, I can hear her moaning in her sleep. My poor sweetie.

Lastly, I was wondering if any of you have a life verse. My parents gave me a verse when they adopted me. Proverbs 3:5-6 has been on every birthday cake they have given me and on all my cards. It has been the first verse I underlined in every new Bible I've gotten.

My sister, Neesie has Psalm 121 for her life "passage." We recited it to her every night when we kissed her goodnight.

Selena's verse is Matthew 5:16, "Let your light so shine before men, that they may see your good works and glorify your Father in heaven." Her name means "light-giver," or "moonlight."
Oh how I pray that she will love her Father in heaven.

She's crying in her crib now --- so I must go!