I am so glad to be able to post! It has been a long time, I know. I used to spend time blogging after Lena went to bed. Now, when Lena goes to bed, our evening hours are spent cuddling, tickling and keeping awake our little one month old!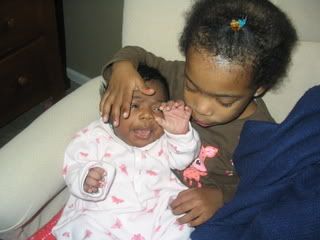 Yes, there are definitely some scary moments when the two girls are together!!
I LOVE having two girls. Yes, there are times when I am so tired, I wonder if I will make it until naptime. There are times when I feel like all I am doing during the day is changing diapers. But that all pales in comparison with the joy I have in my heart with the addition of Shana.
Lena and I are having so much fun introducing Shae Shae to all of our "traditions." We hold her hands together so she can thank God with us for Lena's food. We bring her onto the couch to snuggle under our red blanket and read with us. In the car, since the days and nights are colder, we now have two blankets. Each girl gets one, and Lena is especially thrilled by this.
Lena has more jobs around the house too. She has to straighten her room and throw away all the diapers that need to go into the trash. She holds the clean diapers while I am changing Shana. She has to walk more when we are out.
I have to admit, I haven't gone out by myself with the two girls too much yet. It seems a little daunting, but I'm sure I'll get there!
Napping is great! Shana takes three naps during the day. During nap number one, Lena and I eat breakfast together, and then Lena goes to her room for quiet reading time. I then get an hour to myself ;-) Nap number two is my favorite, because Lena naps and I nap too! During nap number three, I try to make dinner and we eat.
Nighttime is a little more challenging. She has skipped her 1:30am - 2:00 am feeding so often that I am pushing that a little bit more. However, Lena is right across the hall, and I don't want two girls awake. I'm hoping we can get her just eating once at night without too much fuss!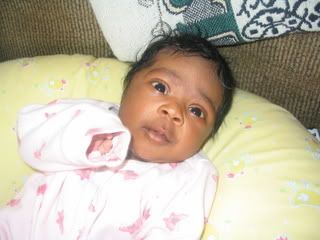 The housekeeping I've been able to accomplish is minimal! I am trying to keep it in perspective. In the morning, if I get the dishwasher emptied, and all three of us dressed I am happy. By afternoon, as long as the floors are vaccuumed, and dinner is cooked I am happy. By evening, if I have been coherent enough to talk to my hubby about his day, I am happy.
I have a question for moms with baby slings/carriers. I have the ultimate baby wrap, and have put Shae in it, but I am still scared to go completely hands free. She seems secure, but I don't know, her head just seems a little floppy in it. Does anyone have a sling that you just LOVE? Does anyone have the Moby wrap? Shopping season is coming, and I'd love to be able to push Lena in the stroller or cart while wearing Shana.
Ok - half of my quiet reading time hour is up ... love to you all. Mwah!!