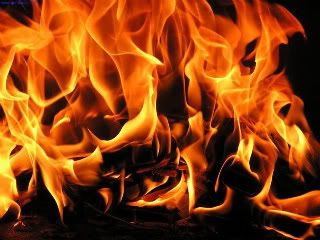 For my dear
friends
:
We prayed so fervently that God would preserve your little one to you this time. It is so hard to even know how to feel, watching you and Mark go through this again. It hurts us to know that you are traveling through this pain, but we will not fear because we know Who is leading you. He can soothe when we cannot, and we know that He will not forsake you. You have been good parents to this little one, doing everything in your power to help him/her along. We love you very much.
"Every thing that may abide the fire, ye shall make it go through the fire, and it shall be clean." Numbers 31:23
"... will my 'good hope through grace' stand the test of such an ordeal? Will my 'joy and peace in believing' crumble into nothingness under the fierce heat of tribulation? Can the 'strong consolation' which God gives me disappear as a vapour when the flame of affliction touches it? Or, if I should lose my best and dearest treasures, can the hot furnace of bereavement burn up all my strength and comfort? ...
We can sing of His love when the heat is most vehement, and glorify him by proving that promise true, 'When thou walkest through the fire, thou shalt not be burned, neither shall the flame kindle upon thee.' This is why the command is so frequently heard, thrilling through heart and life,'Ye shall make it go through the fire...'
- taken from Susannah Spurgeon's Free Grace and Dying Love