We recently went to the Inner Harbor just for fun so I thought I would post some pictures of our little trip.
Selena loved the many fountains we encountered.
Big girls get big girl dinners too.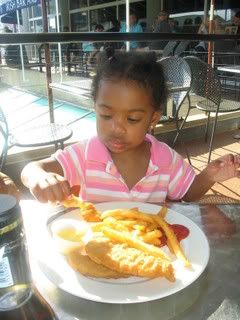 We had to take frequent rest stops for Mommy too.
Playing in the hotel room was fun!
We went to the Children's Museum.
We had circle time there.
Lena got to put on a raincoat and play with water!
They had a minature diner too, where the kids could cook and serve their parents :-)
A very tired girl about an hour before ... our car accident.
Yes, we were hit on the passenger side of our car on the way home as we were traveling on a major highway. I am still thanking God that He spared us from any injury. The car struck us right next to where our precious girl sits, so we are so thankful. Our unborn treasure is doing ok too!