Today I decided to help Lena plant her flower, which we now know is a Tuberous Begonia. Thank you so much to everyone who helped out with this!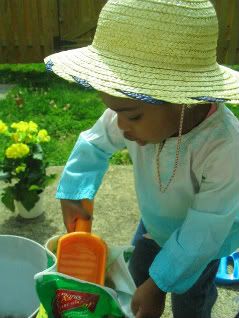 We had a beautiful day to work in our little backyard. Above is the LG. Mrs PT was unavailable for photos.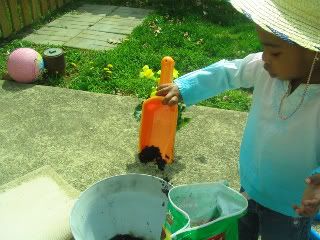 The Little Gardener put her soil in the pot, counting as she went: "One, doo, free, four, five, six, deven, ate, nine, ten, yellow ..." Yellow? I don't know why she says yellow for eleven, but it works for her!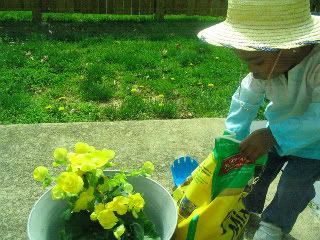 We carefully placed her begonia in the pot. The little gardener didn't want to touch it with her bare hands, so Mrs Purple Thumb had to help out.
More soil, and more counting to yellow.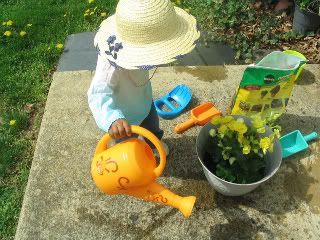 Some water, but most escaped to the ground!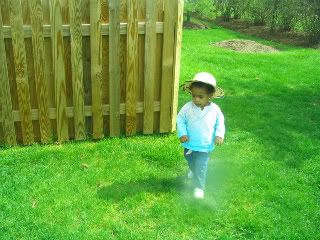 Time to take the pot to the front yard.
On the way, we discovered that out tulips are starting to come up on the side of our house!
Doesn't it look perfect? Hopefully this area is shady enough! We'll keep an eye on it.
Back to the back yard to plant some basil, oregano, and tomatoes. We'll start the seeds in little pots first.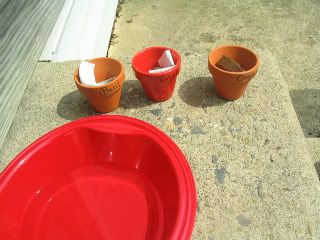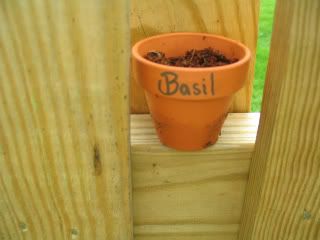 We had fun gardening, but all good things must come to an end. We ended our morning with a good hand washing for Mrs. Purple Thumb and her little gardener, as well as a cold glass of water for each.
We'll keep you posted. Can Mrs PT and her LG keep these plants alive and thriving?