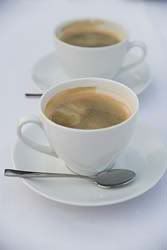 Most every night around 7:30pm, a little ritual begins in our household. Dishes have been packed away in the dishwasher and the table is clear. Daddy is upstairs putting Lena to bed, snuggling her in her blankets and giving her multiple kisses.
Mommy is downstairs, smiling to herself because this is a very special time of the day. Either the tea kettle is put on the stove, or the coffee pot is filled. Two mugs are set out on the counter.
When Daddy comes downstairs, Mommy asks him what flavor he would like, and he smiles and gets two spoons.
Yes, this is the time each night that I get to spend alone with my husband. We talk like friends who haven't seen each other all day, because that is exactly what we are! I treasure this time so much. Lately, our hot beverage of choice has been decaf hazelnut cream with hazelnut creamer. Yummy delicious.
What moments do you treasure most in your day?
I'll be back to talk about more of my treasured moments!