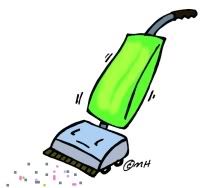 Friends, I have a problem. I have become a professional "vacuumer." I just looooooove to run my Hoover across the floor!
**Note** - I am not a perfectionist when it comes to being clean or neat, it is just vaccuuming that makes my heart sing.
Do you have a household chore like this? A chore that isn't a chore to you? Lately I sprinkled a little apple cinnamon scent into my vacuum bag and ... oh it has just been lovely! Everytime I vacuum, I wonder what that wonderful smell is. And then I remember, and I vacuum for a little bit longer then I need to.
**Second note** - I promise that if this gets any worse, I will seek help (although my husband thinks I am already at that point)
Please tell me I am not alone!