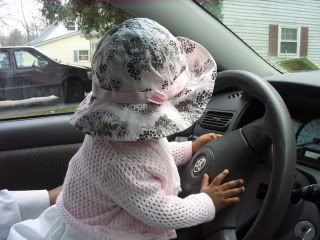 Watch out pedestrians! We have another driver on the road! See how she expertly parked the car in my parents driveway?
Okay, Okay, I'm just kidding. She isn't that precocious.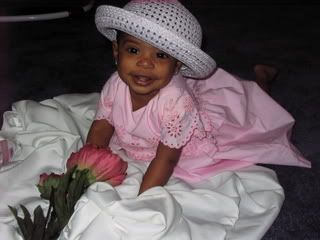 But we do have a crawler. She took off yesterday and actually crawled halfway across the room.
This is scary to me now as I get down on her level and see the world through her eyes. I see paper clips (dropped by yours truly), sockets, two flights of stairs, cabinets just begging to be opened, and power cords.
I have socket covers which I'll probably put in today. I'm thinking I also need at least two gates, cabinet safety locks, and something to stretch across the spindles of my stairway.
What other things do I need? Also, what do you do about power cords? Just teach them "no," and that you mean it when you say it?
I turned around for a minute this morning, and when I looked at her she was halfway inside Mr.S's briefcase ... trying to crinkle all of his papers.
Any advice on child proofing would be greatly appreciated at this juncture ...
Hopefully I will stop in later this week with a more profound post!