Are you groaning inwardly? Are you wishing that I would produce something other then a baby post? Please bear with me ... I love my little sweetie.
1. Graco Metrolite Travel System: The stroller is really, really light! The carseat also doubles as a place to nap, play, or hold convenient items when Miss S isn't in it. I love how everything in the system works together!
2. Kiddopotamus Snuzzler: This snuggly little headrest has side panels that just "hug" little Miss S and make her feel safe and secure. It fits in the carseat, stroller and swing.
3. Cloth diaper: We use disposable diapers on Miss S's little bottom, but there is a cloth diaper in every room. These are a NECESSITY for those inevitable spit up moments. The cute burp cloths that they sell in the store are reserved for when we go out.
4. Glider: I love our glider. We have our one nighttime feeding in it. We also have reading time in it. We also have snuggling time in it.
5.Fisher Price Play Gym: Miss S loves this play gym. She can go on her back with it, or on her stomach. When she gets older she can sit up with it. We can even buy new toys for it!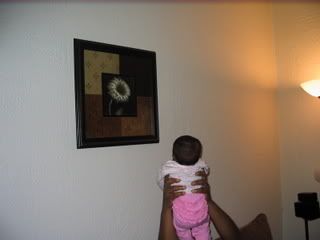 6. Framed Print from Marshalls: This picture was given as a gift to Mommy from Daddy. It is a framed picture of a flower. Miss S stares at it and TALKS to it! Sometimes she can't even eat peacefully because she is too busy gazing at it with love.
7. Pacifier: Okay, I vowed that I wouldn't use this too much! I still don't let her go to bed with it. However, I find I use it much more then I originally intended to. I like to signal to her "time to rest'" by popping it in her mouth. I pop it back out before she sleeps though. The one we are currently using says "I love Daddy.
" Here she is with it when she was helping Mommy fold clothes.
8. Avent Microwave Sterilizer: When I express milk, I use the Avent bottles. This sterilizer is awesome and easy to use. You just put 7 ounces of water in it and pop it in the microwave for four minutes.
9. Golden Book Series: We read together almost every day. This series of books which I received from various friends and family at a baby shower puts little Miss S right into the land of Nod. How convenient for Mommy!
10. Homemade Blanket from Auntie Nee: Miss S still eats at 4am. During these feedings, Mommy and daughter cover up and snuggle underneath this soft blanket. I think this is really a top 10 item for Mommy, but thats ok!
Another time I will do a top 10 list for new parents ... but I think I have taxed you all enough for today!!