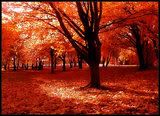 Summer is breathing its last, friends. Fall will be blowing in before you know it. And with these changes, our household reflects on what is past and what is to come.
Mr. S said to me a week or so ago, "This has been a hard summer." And indeed it has. This summer has been full of crying out to God for the needs of many friends. It seems that I've seen pain in the eyes of so many of the dear ones God has blessed us with. Their pain sends its piercing arrow through my heart as well. I've heard it -- thinly veiled -- in their voices. It is hard sometimes not to ask God why -- but we know without reservation that He has a Plan. A perfect and just Plan.

This summer has been filled also, with wonderful family times. Times at the park, around the grill. Its been wonderful listening to my husband and daughter over the monitor -- he reading her favorite book "What shall we do with the Boo-hoo baby?"
She mooing and quacking and snoring when appropriate. Listening to this happiness, while I put the tea kettle on, or the coffee pot, knowing that when baby goes to bed, he will come downstairs and we will spend a wonderful evening together.

We have had wonderful times at PopPop and Nanna's house -- Lena being carried through the door, looking expectantly for Auntie Nee. Wonderful times at Pop and Grandma's house with all the cousins there too ... swinging and playing in the kiddie pool.

But these things are memories now, and we must move on to autumn, with its crisp breezes and spicy pumpkin smells. Mr.S is back in school, working so hard for his surveying degree. He works at work, works at school, and comes home with a smile, open arms and a listening ear. Wednesdays, Lena will see Daddy for a few minutes in the morning, but will go to bed without her favorite rendition of the Boo hoo baby (mine isn't as good, I fear!) Fridays into Saturdays will be hard, with Daddy not coming home from Friday morning to Saturday afternoon. We must find things to be thankful for -- family and friends that have offered their homes so that he doesn't have to make the 90 minute drive home between friday night and saturday morning classes. We miss him, but we are counting those weeks down. And oh - the joy of seeing Daddy on Saturday afternoon!!

We must look ahead to the opportunity to grieve for our friends who are in the arms of Jesus. We must focus on the joy they are experiencing now -- o death -where is thy sting?

We have come out of the summer more sober and reflective, but that is good at times, is it not?

My favorite time of the year is autumn. So, where is that apple cider mix? And oh- September is the month we got married, so look for a retelling of a "how we met" story in a couple of weeks.