How could she be nine months old already? My little girl is growing up. Yesterday was her nine month birthday and we are headed towards a year! I can't even remember life without her, when it was just Mr. S and myself.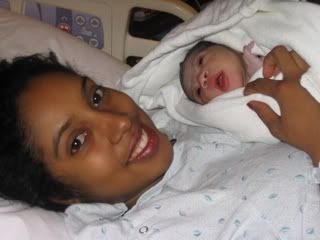 How could we have gotten here already?
We are having some fun with her play telephone. It rings randomly if you leave it on. Selena will be crawling with purpose in one direction and hear her little phone ring. Whirling around she will look with confusion in every direction before proceeding on her way. A minute later she will be pulling up on the couch and the phone will say "Hello?"
She will be so startled, that she will plop down on her bottom in bewilderment. She looks at me quizzically because I am shaking with laughter. Then we'll both end up laughing together!
Our digital camera is on its sickbed and will be sent to the Canon hospital in the next few days. I will miss it, and will miss posting pictures until it gets fixed!