I love to read, and I especially love reading the old classics. I think one of my best yard sale finds was an old - old set of L.M.Alcott books. I got eight books for eight dollars. I have a small collection of old books in their original form (this can become an expensive hobby). One year, for Christmas, my parents started a collection of the original Elsie Dinsmore books for me. You can imagine my excitement as I pulled book after book from a cardboard box.
I've sympathized with Meg from Little Women when John brought home a guest for dinner without telling her first. I've grieved over my sins, just as Katie from Stepping Heavenward. I've been thrilled when purity and virtue have won over riches and frivolity in The Old Fashioned Girl. I've grabbed for my tissues when Horace and Maggie's baby was born into this world just as Aunt Jane went home to be with the Lord in Aunt Jane's Hero. I've delighted in the beauty of the Lake of Shining Waters with Anne.
My very romantic husband planned our honeymoon with this in mind. When he told me we were going to Prince Edward Island, I think I fell in love with him a tiny bit more!! Not just because of the trip, but because of the thought that had gone behind the planning of it. Yes, Anne fans, that is the Lake of Shining Waters below, and we went for a buggy ride along it!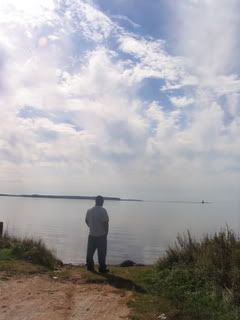 The Lake of Shining Waters
Every so often, hopefully every week, I will be sharing little glimpses of some of my most favorite classics! I do hope that you enjoy them as much as I have!
I will share the first tomorrow, and it will be from Anne of Ingleside by Lucy Maud Montgomery.