It has been too long since I have posted. I feel badly that I've been out of touch. Life has been so busy. Perhaps I should resort to a list as a better means of communication ...
1. Miss S is four months old. She rolled over yesterday for the first time. She can pull herself up to a sitting position when she is reclining on my lap. I love my little friend ... that is what she is now. We enjoy each other so much. I love laying my head on her lap when she is sitting up. She giggles and plays with my hair. She is also teething so my previously good sleeper has turned into a sporadic one. Sometimes she wakes up at random times in the middle of the night. She usually goes back to sleep right away though.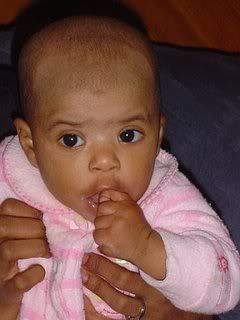 2. We had a very merry Christmas with family and friends. Mr. S and my dad fried a turkey for the first time. It was yummy delicious. My mom was sick, however, so she couldn't really play with Miss S the way she wanted to. We spent Christmas Eve with Mr. S's family and had a great time watching all the cousins interact.
3. I am writing from our new home. We are really enjoying it. It seems like home already, and we are settled in. Just don't open the garage door!! We have stored all of the unpacked boxes in the garage, and although they are slowly dwindling, I have a ways to go. We are so thankful that God helped the move to go smoothly. After our closing, Miss S was running a temp, and mommy was a little stressed out. My family and so many friends just flooded our doors and helped us get moved in. I didn't have to worry at all. I was able to attend to my little sickie and "direct traffic." Thank you so much everyone. We so appreciate it.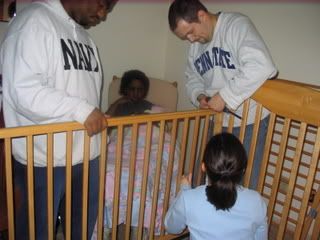 4. We went to the Smokey Mountains for the week in between Christmas and New Years with some dear friends and had a restful time.
5. God has blessed us so much this past year. Last night, Miss S was in her car seat playing with her hands and she just looked ... so big! Ok, Miss S is a petite little thing, but in comparison to what she was, she is growing so fast. Mr. S and I still find time to have fun together even though life is quite busy right now.
6. I wish I could write more, but time is limited. I have cornish hens defrosting in the sink, Christmas things that need to be packed away, and a few boxes to unpack. Miss S is sleeping. Hmmmm .... should I eat lunch, or tackle those boxes?? And what about the laundry?? Choices, choices ...