These are quiet times for our little family. We have been sick, and consequently housebound a lot. I've been in bed all day, only managing to dress and feed the girls. Lena had to be content to sit next to me in bed, coloring with me and watching episodes of Little Bear!
Our girls are growing by leaps and bounds. I've been doing preschool with Lena in the mornings. She looks forward to these times so much! We usually begin with saying "Good Morning" to each other and practicing writing her name and the date. We do dot to dot and number pages. She has to sit with her hands folded at her little desk, and wait for commands from me. We move to the floor to do puzzles, practicing each letter and its sound, and practice sounding out simple words. We sing hymns, read a story, and she is working on short verse Scripture memorization.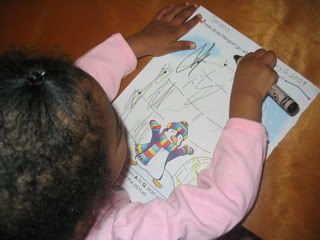 I've realized how very much I enjoy teaching her. It has been a very special time for the two of us each morning, and I pray it will benefit her emotionally, intellectually and spiritually. Shana sometimes joins us during our sessions and spends time in the crib "playing."
Shana watches her big sister's every move with wide eyes and her most loving smile. Selena is "little mommy," telling me what she thinks Shana needs or wants. She has started taking Shae's face in between her two little hands and kissing her often during the day.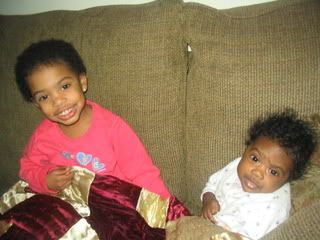 Goals for the next six months:
Continue to do preschool at least 3 times a week with Selena
Be more organized when it comes to our office
Get back to menu planning
Pack lunches for hubby 4 times a week
Continue Shana's nighttime sleep training (she now sleeps from 8:30 or 9pm to 4:00 - 5:00 and then back to sleep for two hours)
Get the girls to sleep in the same room
Get Lena completely potty trained (she wears underwear for half a day now)
Scripture memorization (for myself!)
Restart my prayer journal and keep it up!!
I know I haven't posted very often, but I have been very busy just keeping things together in our home. I do think of all of you, and will make my rounds very soon! Off to go take some Advil for this fever.