Why is the bassinette stripped of its linens and sitting by the front door ready to be returned to my sister-in-law?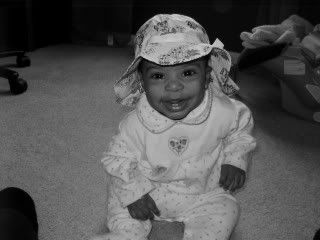 Why is my baby girl sitting up without any pillows behind her?
Because she is growing up. Part of me wants to applaud, and the other part wants to wipe a few tears away.
Along with the milestones she is learning, and the weight and height advancements (ok, very little in those categories, but she is growing!) -- my precious one is old enough to start learning other things.
To obey
To be patient
To share
... these are only a few of many!
It will soon be time to pull out our family treasure box. This is something I worked on while I was pregnant with Selena.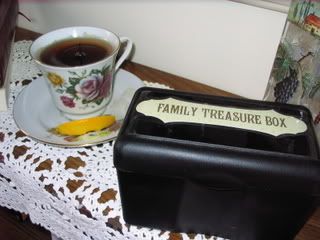 It isn't fancy, but it has treasures inside!
If you open it, you'll see categories: Creation, God's Word, Goodness, Jesus' Death and Resurrection, Heaven, Hope, Obedience, Parents, Righteousness, Salvation, Sleep, The Tongue,Trust, and Truthfulness.
Inside each divider are index cards with applicable verses. I plan to memorize them with Selena ... maybe we can even work on them in family devotions when she gets older.
These are all I have so far, I need to work on storing more treasure!
I pray that we will guide her little feet into paths of righteousness.
A dear friend framed this poem for me before Selena was born. I'll share it with you. I tried to find the author online, but I wasn't successful. If you know who wrote this, please tell me so I can give credit where it is due.
"A careful woman I ought to be
a little girl follows me.
I do not dare to go astray,
for fear she'll go the self-same way.
Not once can I escape her eyes
whate'er she sees me do, she tries.
Like me, she says she's going to be
that little girl who follows me.
through summer sun and winter snow,
I'm molding for the years to be
that little girl who follows me."